We are continuing to work on making our Payouts Service as user-friendly and accessible as possible. This week we're happy to announce the launch of PayPal payments for invoices!
PayPal is one of the most common and popular ways to pay for things online. So we made it available as one of many options for site owners to use when submitting funds to cover a payout to affiliates.
PayPal is fast!
One advantage of paying invoices with PayPal is that it is fast! The payment verification process is nearly instant, so the funds will begin being dispersed to your affiliates right away after your payment is confirmed.
How it works
When paying an invoice for a payout, PayPal will now show up as an option for the payment method: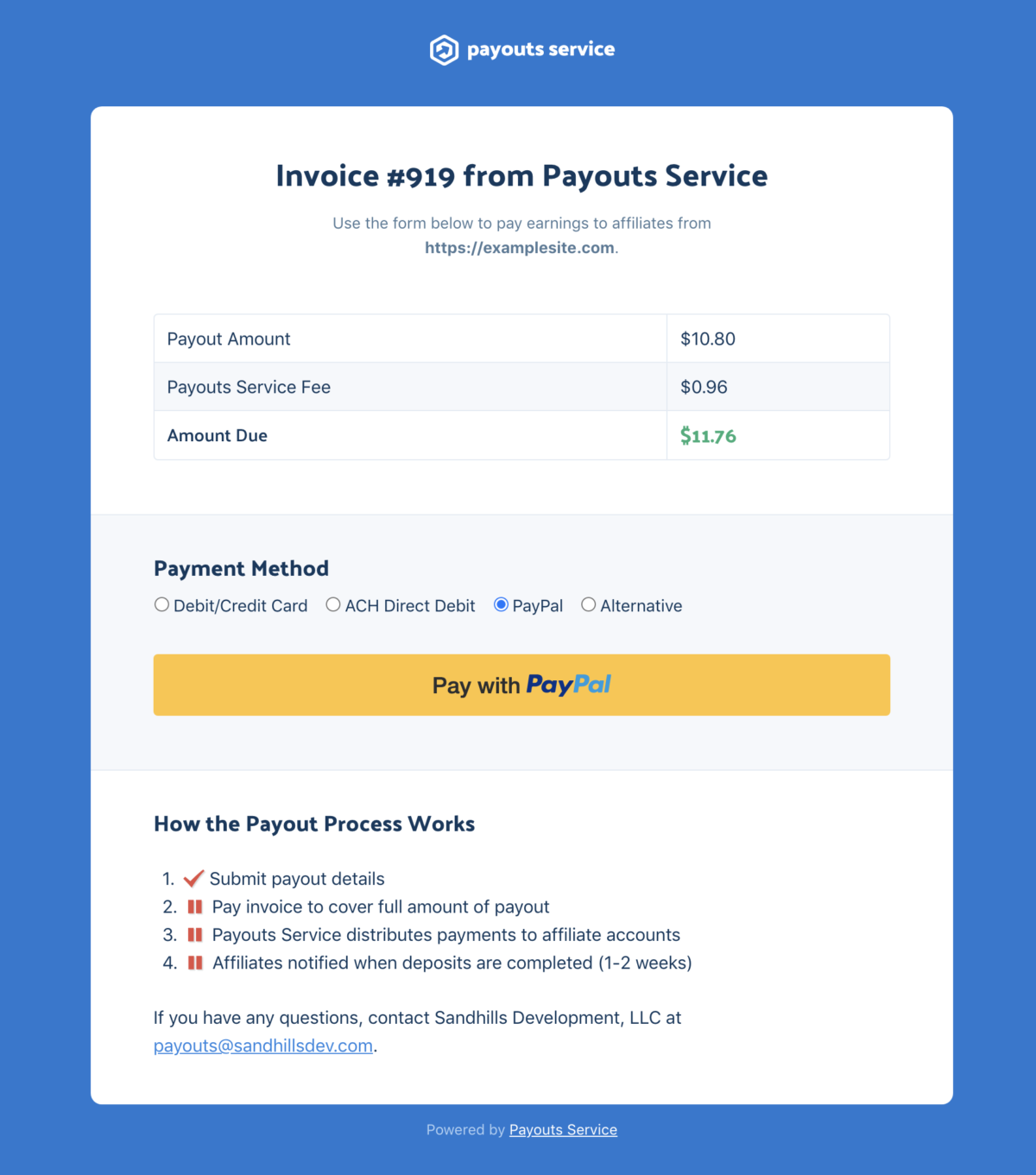 After clicking Pay with PayPal button, a pop-up window will open where you can log into your PayPal account and authorize the payment.
Other ways to pay your invoice
You can pay your invoice with the following payment methods:
Credit or Debit Card
ACH direct debit (USA site owners only)
SEPA
Sofort
iDeal
Alternative
Learn more about processing payments.
Using the Payouts Service?
✅ How is it working for you? We would love to hear your feedback!
Considering using the Payouts Service?
Paying your affiliates can be a painful and error-prone process. But not with the Payouts Service! Paying a few -or a few dozen- affiliates takes just 1-3 minutes and a few clicks.
💰 Try it free – Click here to get your first two payouts for free (no fees)!
📱 Use our cost calculator to see what fees look like for you.
✍️ What is preventing you from using the Payouts Service? Let us know.
Filed under Updates.