We have launched updates to our invoice system with more payment options for Europe.
European customers can now pay their invoices with SEPA Direct Debit, Sofort and iDEAL. This will be especially useful for those businesses owners that do not have, or prefer not to use, credit or debit cards for business expenses.
For payouts processed in Euros (EUR, €), the invoice payment screen will now show the following European payment options:
Debit/Credit Card
SEPA Direct Debit
iDeal
Sofort
PayPal
Alternative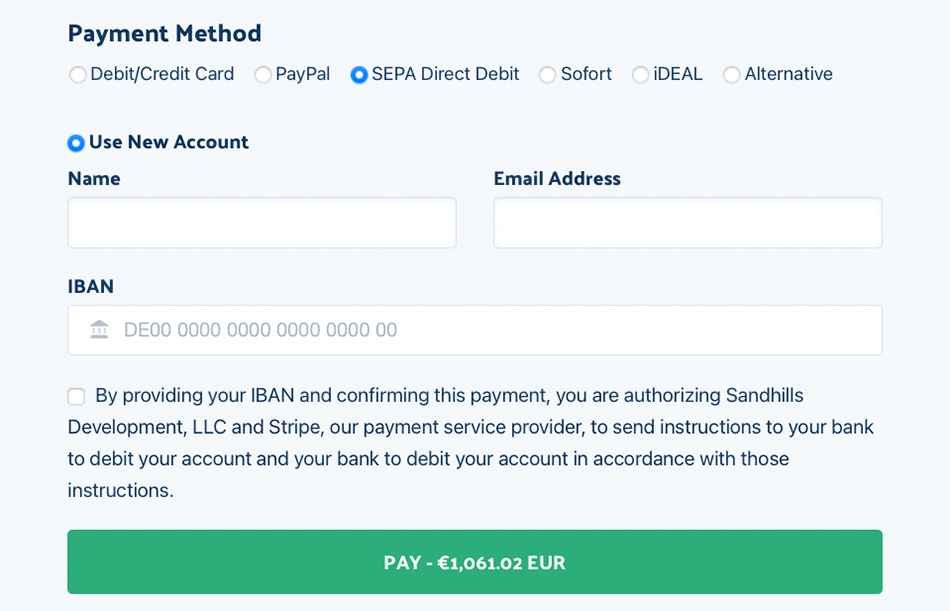 SEPA Direct Debit
This payment method is available in all SEPA countries. When paying with SEPA Direct Debit, the payment process may take up to 6 business days to finalize. The following countries can use SEPA Direct Debit:
Austria
Belgium
Bulgaria
Croatia
Cyprus
Czech Republic
Denmark
Estonia
Finland
France
Germany
Greece
Hungary
Iceland
Ireland
Italy
Latvia
Liechtenstein
Lithuania
Luxembourg
Malta
Monaco
Netherlands
Norway
Poland
Portugal
Romania
San Marino
Slovakia
Slovenia
Spain
Sweden
Switzerland
iDEAL
The iDEAL, payment is exclusive to customers in the Netherlands and payments submitted through iDEAL are processed instantly.
Sofort
Payments process through Sofort takes 2 -14 business days to process and are available to customers in:
Store payment methods for later
SEPA, iDeal and Sofort payment methods can be stored and easily reused on future invoices to help expedite the payout processing times.
Alternative payments
We are committed to making paying your affiliates easy. If none of the European payment options work for you, click the Alternative button.
You'll be taken to a form where we can arrange payment by bank-to-bank transfer, PayPal, or even a mail-in check.
Are you using the Payouts Service?
✅ Give us your feedback on how well the platform is working for you, take our quick survey!
Are you considering using the Payouts Service?
If you are using AffiliateWP, the more successful you grow, the more you're going to want a better way to pay your affiliates.
💰 Try it free – We are temporarily offering to process your first two payouts for free (no fees) for new customers, so just get in touch and we'll enable zero-fees on your account.
📱 Not sure yet? Use our cost calculator to see if it works for you.
✍️ Or let us know what is preventing you from using it so far with our feedback form.
Filed under Updates.